Conference Board of Canada says beer accounts for 45% of all beverage alcohol sales
By: CBC News | Nov 5 2013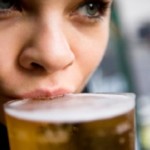 A report from the Conference Board of Canada says beer is a major driver of Canada's economy, supporting 163,200 jobs across the country.
Canada's beer industry is disproportionately domestic compared to that of other countries, the report released Tuesday found, as 85 per cent of the beer consumed in Canada is produced here.
The report claims that for every dollar spent on beer in Canada, the impact on Canada's GDP (net of taxes) is $1.12.
80 litres per person
The brewing industry is bigger than Canada's dairy industry and 3.5 times larger than Canada's wine and spirits industries combined, the Conference Board says.
John Sleeman, the founder of Sleeman Breweries Ltd. and chair of the industry lobby group Beer Canada, said Canada boasts many natural resources that aid the industry, including brewing grains such as barley, and copious amounts of fresh water.
He admits beer sales have been flat in recent years as the baby boomers drink less.
"Certainly as the baby boomers age, our drinking patterns change. But one of the things industry needs to do, as you may change your consumption patterns we need to make ourselves attractive and interesting to new consumers who are coming into the segment," Sleeman said in an interview on CBC-TV's Lang & O'Leary Exchange.
Sleeman said the small brewers are the innovators of the industry and are doing the job of attracting new consumers.
"That's great for the industry. These people are coming along and making themselves interesting to the consumer and saying maybe we can get these people back from the vodkas and the wines and be excited about selling beer again," he said.
The lack of a national distribution system for beer is an impediment for small brewers, Sleeman said.
"There are some great beers in Alberta that people in B.C.  or on the other coast in Halifax would love to have, but it costs a lot of money to have the attention or to ship the product that kind of distance," he said.
The report also found:
Canadians drink 23 million hectolitres of beer a year on average, which works out to about 80 litres per adult on a per capita basis.
Beer is the most popular Canadian alcohol product, accounting for 45 per cent of all beverage alcohol sales in Canada.
Beer currently makes up just under one per cent of Canada's GDP, and brings in $5.8 billion worth of tax dollars for municipal, provincial and federal governments every year.