Beer Store Profits $700M Yearly From Near-Monopoly, Study Finds
Posted by: CBC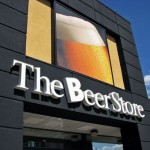 The Beer Store is reaping $700-million annually in "incremental profits" when compared to Quebec stores because of higher prices and the near-monopoly the foreign-owned retailer has in Ontario, a new economic study has concluded.
University of Waterloo economics professor Anindya Sen found the prices for a 24-bottle pack of beer at The Beer Store was $9.50 or 27 per cent higher when compared to two major grocery stores in Quebec.
The average for a 24-pack of Molson Canadian, Coors Light, or Budweiser before tax was $25.95 in Quebec, and in The Beer Store it was $35.56.
"These findings aren't necessarily an argument to reduce beer prices, as there are arguments that higher prices play an important social policy role," said Sen in a release.
The Beer Store is owned by the U.S.-based Molson Coors Brewing Company, Sapporo of Japan and Anheuser-Busch InBev of Belgium.
"[The study] raises the important question of whether through modernizing retailing the Ontario government could be benefiting more – and capturing more revenue – particularly in a period of large government deficits," said Sen.
Ontario Convenience Stores Association CEO Dave Bryans said the findings are a reminder of the much-needed discussion about Ontario's "outdated alcohol retailing system."
"We know that Ontario can expand alcohol retailing to more private retailers and still earn the revenue it now receives from the LCBO — and more," Bryans said.
"Adding private retailers, like convenience stores, who can work with the LCBO wholesale system would benefit the provincial government, and Ontarians would benefit from improved choice and convenience."
In June Mac's Convenience Stores said it would create 1,600 full-time jobs if its Ontario stores were allowed to sell beer, wine and spirits.
Over 200 rural convenience stores and grocers in the province currently sell beer, wine and spirits through the LCBO's agency store program.
In response to Mac's interests in selling alcohol, Ontario Finance Minister Charles Sousa would only say the government will "look at what's going to be in the best interests to the people of Ontario and to the province.
"It's prudent for us to always view opportunities should they be of net benefit to the province," Sousa said in June.
To see the original article, click here.