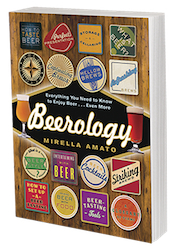 Join Mirella Amato in Toronto for the launch of her first book Beerology: Everything You Need to Know to Enjoy Beer…Even More on May 13th!
The event will take place at C'est What, on the evening of May 13th, starting at 6:00pm.
There will be copies of the book for sale, which is pretty exciting since the in-store release date isn't until May 27th.
The official event time is 6:00-8:00 pm, but we're pretty sure she'll be sticking around for sometime after the event, so get out and celebrate with her!
Note: For those living in Eastern Ontario and Quebec, the Montreal book launch will take place on June 12th at Le Reservoir. For more details on this event, please click here.