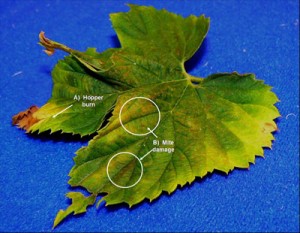 Hops Field Scouting Workshop Wed., June 22, 2016
There is still time to register for this month's – Hops Informal Field Workshop in Prince Edward County on Wed., afternoon June 22, 2016.
Join OMAFRA specialists Melanie Filotas and Evan Elford for an in-field workshop on seasonal issues in hops. The event will be hosted by Edgar Ramirez/Catherine Crawford at Pleasant Valley Hops, in beautiful Prince Edward County.
Topics covered will include an overview of scouting hops yards, hands-on identification of key pests present in the hops yard and a discussion of current production challenges of not for the 2016 season.
This is an informal workshop with ample time for participants to ask questions on agronomic and pest management challenges.
The workshops are free for OHGA members, but there may be a nominal fee for a BBQ supper for anyone who is hungry.
Deadline to register—Friday, June 17. See registration details below.
To register, contact the Agriculture Information Contact Centre at 1-877-424-1300. A minimum of 10 registrants is required for the June 22 field session for the session to run.
Location: Pleasant Valley Hops
18683 Loyalist Parkway, Hillier, Prince Edward County, ON
Date: Wednesday, June 22, 2016 (Rain date June 23)
Time: 4:00 pm—6:30 pm
Presenters:
Melanie Filotas, Specialty Crops IPM Specialist, OMAFRA
Evan Elford, New Crop Development Specialist, OMAFRA