By:  Mom 'n Hops | Oct. 3, 2013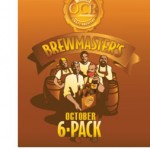 The Ontario Craft Brewers (OCB) have announced the first edition of its monthly Brewmaster's virtual 6-pack, a new feature pegging together choices from Ontario's top brewmasters.
While not a physical 6-pack, the virtual 6-pack is effectively six monthly recommendations from established brewmasters in Ontario providing information on where to pick up each product.
For October, the OCB enlisted both Bill White and Mark Benzaquen. White instructs the "History of Beer and Brewing Course" at Niagara College, aids in the development of the Master Brewer's Association of the Americas (MBAA) Beer Steward Certificate program and is a BJCP-certified judge. Benzaquen, a Professor of brewing science at Niagara College, is an associate of the Master Brewers Association of Americas, the Institute and Guild of Brewers and Distillers, and the Project Management Institute.
"To kick off our monthly Brewmaster's 6-Pack feature, we've gone with a working theme. Now that Fall is here, workers have returned to their tasks, and students have gone back to school, so we want to pay tribute to them. Our guest brewmasters rolled up their sleeves, and put together a half-dozen great-tasting craft beers that perfectly match our industrious theme", writes the OCB.
Included in the Octoberfest 6-pack are Steam Whistle Pilsner, Beau's Lug Tread Lagered Ale, Niagara College's 1812 Butler's Bitter, Mill St.'s Tankhouse Ale, Highlander's Blacksmith Smoked Porter, and Barley Days' Wind & Sail Dark Ale.
For further details, click here.