Posted by OHGA | February 19, 2014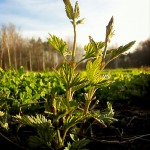 If anyone is looking for rhizomes and/or plants for the hop yard this year, please be sure to take a look at our 'Directory'. Once you click on the tab a new window will open and a listing of Ontario hop farms will appear. They have been separated into geographical regions, so finding a grower in your local area is very easy to do!
Once in the directory:
Select a farm that's selling product
Either click on the farm name to go their website or
Copy and paste the grower's email address into an out-going email and send them a quick message
That's all it takes, so get hopping!