Most breweries import hops from overseas, but a few local craft brewers are looking into an alternative.
By: Sheena Lyonnais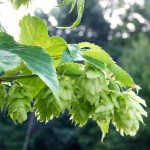 Hops—the small flowers that act as the primary flavouring agent in beer—are usually imported from places like Germany and Belgium. Now, some of Toronto's microbreweries are trying to grow their own, right here in Toronto.
It started as a pilot project by Bellwoods Brewery, but the effort was suspended when the brewery officially opened on Ossington Avenue last year. Even so, a few other breweries are envisioning a day when Toronto-grown hops will be a regular ingredient in the city's craft beer.
One of those breweries is Kensington Brewing Co., which is set to open a brewery in Kensington Market later this year. Right now, the company is based in a small shop on Augusta Avenue, across the street from Handlebar, a bar and restaurant. Handlebar was the first business to participate in Kensington Brewing's hops program.
The idea of the hops program is to get restaurants and bars throughout Kensington Market growing a variety of hops on their patios and rooftops. The brewery hopes to use these hyperlocal hops to create a craft brew that is distinct to Kensington. The first plants can be seen in front of Handlebar. They're vine-like, and they grow up to three inches a day.
"The whole goal was to start with a few plants," says Kensington Brewing Co.'s Michael Gurr. "The idea is to have a beer that's unique to Kensington, grown for the most part with Kensington ingredients, and sold at Kensington bars."
The pilot hasn't gone as well as the brewery had hoped. Hops plants, as it turns out, take three years to reach maturity. Toronto's inconsistent climate conditions have made things difficult, and the hops have yet to start budding in significant quantities. "We're well into the point where it should be flowering. The flowers are the actual hops," Gurr says.
Hops used to be commonplace in Ontario, and there are still feral hops plants growing across the province, says Nicholas Schaut, the president of the Ontario Hop Growers Association. But prohibition and temperance, pests and diseases, and the centralization of big breweries killed craft brewing in the early part of the 20th century, taking the hops-growing industry with it.
A general fascination with local produce and a resurgence of interest in craft beer are bringing hops back, but there are additional challenges. It's expensive to grow hops in large quantities. According to Schaut, costs can run to $15,000 or $18,000 an acre, and that's not including harvesting equipment. This makes it appealing for craft brewers to grow smaller, more experimental batches.
According to Jason Fisher from the Junction's Indie Alehouse Brewing, "local" doesn't necessarily mean "better." Indie Alehouse plans to make a pilot batch of beer with hops grown on its rooftop later this year, but it doesn't plan to pursue local hops on a commercial scale.
"We're a brewery, not a farm," Fisher says. "If there were local options we would certainly consider them, but I'm not going to buy something just because it's local. It needs to be good and it needs to be at a fair price. It needs to meet quality standards."
But according to Schaut, there are, in fact, some local options. "A lot of brewers, aside from the cachet of growing their own hops, are unaware of all the hop growers that are here in Ontario." He says there are 28 places across Ontario with 100 plants or more. None of them are in Toronto.
Cam Heaps, the co-founder of Steam Whistle Brewing, lives with his high-school best friend on a hops farm just north of the city, in Gormley. They grow and sell hops to a few Ontario breweries, but don't use locally grown hops in Steam Whistle beer, favouring hops from places such as Belgium.
As a commercial brewery, Heaps says it doesn't make sense for Steam Whistle to grow its own hops. Not only would it need a lot of hops in order for the farming operation to be commercially viable, it would also need to change its recipe.
"For Steam Whistle, we only make one beer," Heaps says. "What you're going to see these hops used for is people creating new styles and new brands, because then they can start it from day one and there's no change. It becomes an inherent part of the characteristic. That's what we're seeing now, with people experimenting with one-offs."
For Kensington Brewing Co., at least, the desire to create an experimental craft beer is rooted in the community.
"It's a great opportunity to work with the neighbours," says Handlebar's Rachel Conduit. "Community's important and you should support each other."
To see the original article, click here.