By: MomnHops | April 4, 2014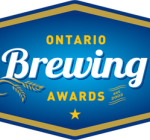 Toronto, ON – Winners in the 2014 Ontario Brewing Awards were announced last evening, Thursday, April 3 2014, at the Gladstone Hotel in Toronto over 31 categories with entries from 45 Ontario breweries.
North American Light Lager
Gold: Laker Light
Silver: F&m Stone Hammer Light
Bronze: Flying Monkey's Anti-gravity Light
North American Lager
Gold: Hogsback Vintage Lager
Silver: Top Shelf Classic Lager
Bronze: Amsterdam Natural Blonde
Pilsner
Gold: Waterloo Pilsner
Silver: Rickard's Blonde
Bronze: King Pilsner
Amber Lager
Gold: Hopcity Barking Squirrel Lager
Silver: Great Lakes Red Leaf Lager
Bronze: King Vienna Lager
Dark Lager
Gold: Side Launch Dark Lager
Silver: Waterloo Dark
Bronze: King Dark
Bock
Gold: King Bock
Silver: Cameron's Deviator Doppelbock
Bronze: Mill St. Weizenbock
Honey / Maple Beer
Gold: F&m Stone Hammer Maple Red
Silver: Mill St. Royal York Stinger
Bronze: Bayside Honey Maple
Hefeweizen
Gold: Big Rig Hefe
Silver: Denison's Weissbier
Bronze: Magnotta True North Wunder Weisse
Belgian Witbier
Gold: Mill St. Belgian Wit
Silver: Amsterdam Boxer
Bronze: Rickard's White
Flavoured Wheat Beer
Gold: Amsterdam Klb Raspberry Wheat
Silver: Clocktower Raspberry Wheat
Bronze: Beyond The Pale Pink Fuzz
Farmhouse Ales
Gold: Stack Portes De L'enfers
Silver: Big Rig Saison
Bronze: Big Rig Belgian Blond
Lagered Ales
Gold: Publican House Ale
Silver: Clocktower Kölsch
Bronze: Big Rig Gold
British Pale / Bitter
Gold: Muskoka Cream Ale
Silver: Black Oak Pale Ale
Bronze: Highlander Scottish Ale
American Pale Ale
Gold: Great Lakes Johnny Simcoe
Silver: Collective Arts Rhyme & Reason
Bronze: Great Lakes Crazy Canuck
British IPA
Gold: Mill St. IPA
Silver: Kensington Baldwin Fisheye-pa
Bronze: Waterloo Ipa
West Coast IPA
Gold: Cameron's RPA
Silver: Muskoka Twice As Mad Tom
Bronze: Beyond The Pale Imperial Super Guy
Dark Ipa
Gold: Big Rig Black Ipa
Silver: Flying Monkeys Netherworld
Bronze: Wellington Terrestrial India Brown Ale
Amber Ale
Gold: Kilannan New Zealand Red
Silver: Clocktower Red
Bronze: Sawdust City Ol' Woody Alt
Dark Ale
Gold: Magnotta True North Copper Altbier
Silver: F&m Stone Hammer Dark
Bronze: Amsterdam Downtown Brown
Porter
Gold: Nickel Brook Maple Porter
Silver: Highlander Blacksmith Smoked Porter
Bronze: Beer Academy Porter
Stout
Gold: F&m Stone Hammer Coffee Stout
Silver: Sawdust City Skinny Dipping Stout
Bronze: Big Rig Stout
Fruit Beer
Gold: Amsterdam Framboise
Silver: Mill St. Frambozen
Bronze: Turtle Island SMaSH Cherry Pale Ale
Vegetable Beer
Gold: Grand River Highballer Pumpkin
Silver: The Ship's Rations
Bronze: Big Rig Pumpkin
Flavoured Beer
Gold: Amsterdam Full City Double Tempest
Silver: Sawdust City Red Rocket Cinnamon Vanilla Cayenne Coffee Stout
Bronze: Big Rig Triple Chocolate Cherry Stout
Strong Beer
Gold: Descendants Prologue Belgian Blonde
Silver: Sawdust City Princess Wears Girlpants
Bronze: Amsterdam Vicar's Vice
Gluten Free
Gold: Nickel Brook Gluten Free
Barrel Aged Whisky
Gold: Amsterdam Double Tempest
Silver: Wellington Frost Quake Bourbon Barrel Aged Barley Wine
Bronze: Cameron's Bourbon Barrel Deviator Doppelbock
Barrel Aged Wine
Gold: Amsterdam Rye Peppercorn Saison
Silver Sawdust City ODB
Bronze: Great Lakes Gary
Imperial Stout/Baltic Porter
Gold: Muskoka Brewery Winter Beard
Silver: Big Rig Imperial Stout
Wellington Russian Imperial Stout
Newcomer Of The Year
The Publican House Brewery
Beer Of The Year
Muskoka Cream Ale
To read the original article, click here.
For more information about the Ontario Brewing Awards, take a look at their website by clicking here.