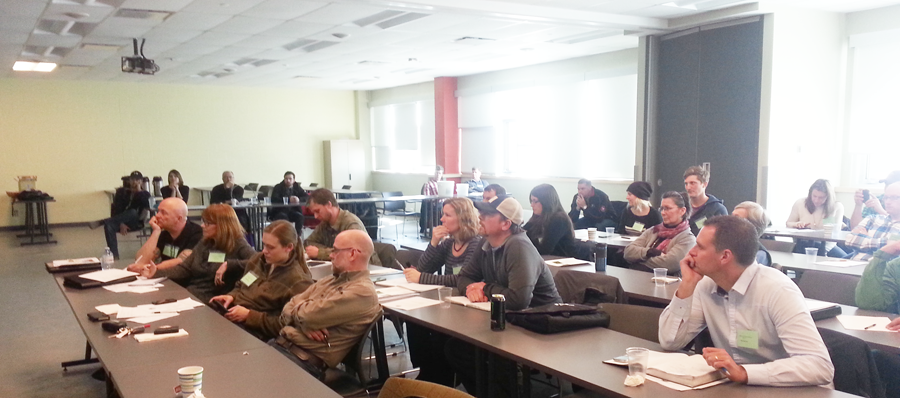 Thank you to everyone who attended the Ontario Hop Growers' Association Annual General Meeting on Sat., March 28, 2015 in Whitby, Ontario.
Your new board of directors for the 2015-16 season are as follows:
Albert Witteveen
Ron Brennan
Hugh Brown
Hugo Desrochers
Fred Thomson
Candidates were acclaimed, as we had the exact number of candidates required to fill the 5-position board, so no election run off was required.
Proposed constitutional amendments to make way for a "direct elect" of key executive positions were approved, along with change to extend the president and VP position to two terms, and stagger them to alternate years – to help maintain continuity on the board.
A big thanks to Debbie Zimmerman, CEO of the Grape Growers of Ontario association for her keynote about parallels between the Ontario wine and craft beer industries (we want to grow up to be like them).
Drew Knox, also spoke on behalf of Ontario Craft Brewers (OCB) to speak to new OCB initiative to allow craft brewers to open up one, onsite retail story, plus cross sell each others products, and see OHGA support.
Also thanks to our excellent panel of 7-8 from of Ontario's top craft brewers, who shared their experiences working with Ontario hops, and their encouragement to keep growing, and their excellent door prize contributions (everyone was a winner).
Brewers in attendance included:
Cody Noland, Amsterdam Brewing Co.
Jeff McCauley, Beau's All Natural Brewing
Vince Marsman, Cool Brewing Co.
Michael Duggan, Duggan's Brewery
Josh McJannett, Dominion City Brewing
Dwayne Wanner, Highland Brewing Co.
Charles MacLean, MacLean's Ales
Michael Arnold, Trafalgar Ales & Meads.
A special thanks to all the members who made the drive and the excellent dialogue – the association is only as strong as its members and their contributions. The new board will meet quickly in the new term to fill the executive positions, and we will move to direct elect in 2016.
Please reach out to your new directors to welcome them and let them know if you have any comments or questions.