In this month's newsletter, we catch up with Graydon Lau, one of the owners of the new brewery Quayle Brewery, out of Coldwater Ontario. You can learn more about them at https://quaylesbrewery.ca/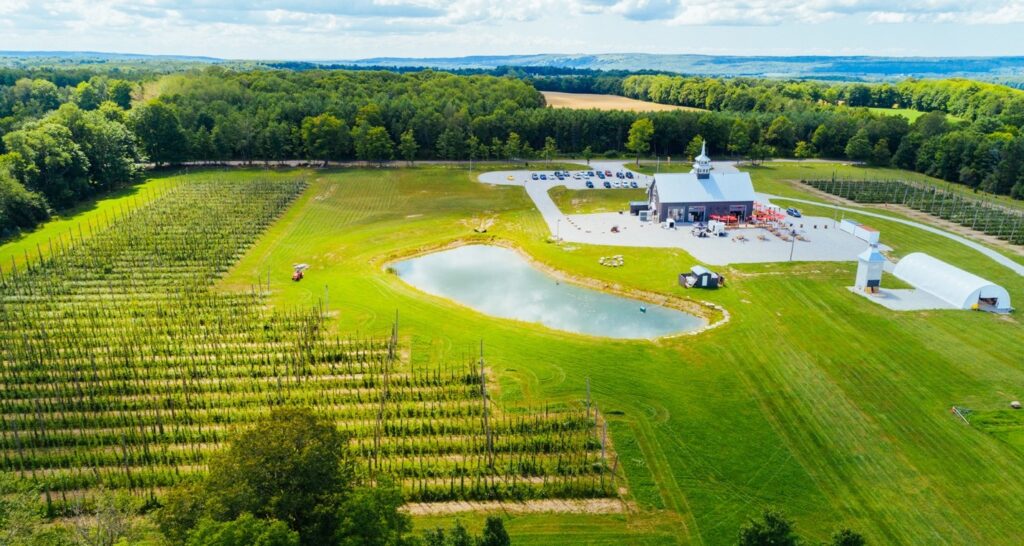 OHGA: When did you open the brewery?
We opened with online sales and curbside pick-up in late May and opened our Taproom in early July when our region went to stage 2

OHGA: Why did you decide to launch a brewery?
We have seen the Ontario wine industry grow leaps and bounds with all these wonderful vineyards in all parts of the province. We decided, as beer lovers, that it was time to do the same with beer!
OHGA: How did you come up with brewery name?
Quayle's is a family name of our founder with Celtics origins in the Isle of Man, one of the early origins of beer. We are also the only brewery in the province that starts with the letter Q!

OHGA: What's the cool factor/unique about your brewery?

We are farm-based brewery sitting on 87 acres of property amongst 12 acres of hops. While there are a few other OHGA members that are also farm-based breweries, there aren't any in our region. Many guests have never seen hops plants/trellises and seeing our brewery in the "middle of nowhere" really catches their attention. What makes us unique is that we grow, make, sell and serve beer all from our own property. Three of the four key ingredients come from our land offering a true farm-to-glass experience.
We have had other hop growers from around the province stop in for a visit and have a beer. It's a great to get support from other growers!

OHGA: Which brews are selling best?

We have had the philosophy of brewing a broad range of beers from lagers/pilsners to a variety of IPA's to Porters and even a few sours and saisons. This allows people newer to craft beers to try something familiar (lagers/pilsners) while also giving hop heads something as well. In short, they all sell well!

OHGA: How do you decide which recipes to offer?

Seasonal beers are always on our brew list, for example we just brewed a fresh hop DIPA, saison and pale ale (using our fresh hops of course!) We currently have an Oktoberfest beer on tap and are planning heavier, darker beers as the weather gets colder.
OHGA: Where do you sell your beer?
Reception to our beers has been so amazing that everything we keg or can is sold from our taproom or online sales. Future vision would have us listed in grocery and LCBO stores and on tap at local restaurants.

OHGA: What is your favourite part of being with the brewery?
Being able to stand in the brewery with a pint in hand and look out into the hop-yards, knowing that the beer we are drinking has hops grown from our own property A true farm to glass experience!

OHGA: What part of your job do you not like?

The paperwork.

OHGA: Do you buy Ontario Hops?

We have 12 acres and 7 different varieties, so we are able to use our all own hops for our beers. That said, we support a fellow grower and have our hops pelletized and bagged by them.

OHGA: What factors do you consider when you are buying hops?
Variety, alphas, freshness

OHGA: What advice would you have for Ontario Hop Growers?

There will always be a market for Ontario hops. OHGA and OMAFRA studies have shown that Ontario hops are comparable to those grown elsewhere in the world. Reality is that market prices for hops has dropped for many of the varieties grown here, but you can't ignore the investment you have made to build your trellises and specialized equipment you have purchased/modified. Hang in there, the cycle will come back around in time. Until then, as always, "don't give up your day job!"
OHGA: Thanks Graydon. All the best with sales this fall.