By: Evan Elford | New Crop Development Specialist/OMAF and MRA | Hort Matters | March 21, 2013
A new hop project funded through OMAF and MRA's New Directions research program and led by the University of Guelph (with partners from Loyalist College, Ontario Craft Brewers, Ontario Hop Growers Association, and Erie Innovation and Commercialization) will assist in collecting and developing Ontario based information for the hop industry in the province from 2012-2015. In addition to field trials, grower and brewer surveys are an integral part of the project, collecting information on yields, variety demand, pricing, post-harvest preferences and other requirements for developing this niche market in Ontario.
As the new batch of surveys are sent out this spring, it's interesting to review the first survey conducted in 2009 whenthe Ontario Craft Brewers (OCB) asked their members for input regarding the use of locally grown hops. The results of the survey were provided to OMAFRA for distribution to Ontario hop growers. Figures are based on a 40% response rate from OCB members and no margin of error was calculated.
2009 survey overview
Overall, 95% of the brewers surveyed in 2009 expressed interest in sourcing Ontario grown hops. Although the survey was only a snapshot in time, and brewer demands and styles are sure to change, the following information is helpful when considering what hop characteristics brewers consider most valuable and what varieties to consider growing for Ontario markets (i.e. which varieties are in demand by brewers).
Hop attributes
As illustrated in Figure 1, quality and cost are the top two characteristics brewers are looking for when purchasing locally grown hops. These results reinforce the importance of quality for local products, including hops. Diligence in production and pest-management practices, as well as post-harvest drying and packaging in order to match, or exceed, the quality of imported hops will be important for Ontario hop growers in coming years.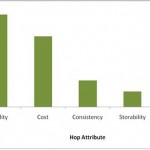 Figure 1: Characteristics brewers consider when purchasing hops, 2009. (Photo credit: OMAF/MRA)
Varietal interest and additional market opportunities
In regards to varietal interest, the aroma varieties Hallertauer and Cascade top the list (Figure 2). One issue identified in a recent grower meeting was that even though these cultivars rank highest by number of brewers, this does not necessarily capture the total demand of each variety (in terms of usage by volume). In theory, one large brewer could skew these numbers to a particular variety compared to many small brewers when considering total usage of each variety by volume.
The survey reported the use of hops by volume to range between 50 kg hops per year to 3000 kg hops per year depending on brewery size but did not correlate the volume to specific varieties.
An additional marketing opportunity for local growers identified in the survey was organically grown hops. Approximately 33% of brewery respondents in 2009 indicated they were interested in purchasing certified organic hops.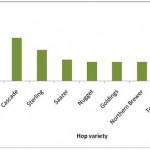 Figure 2: Interest from brewers by hop variety, 2009 (Photo credit: OMAF/MRA)
Processing and packaging requirements
Brewers expressed in the need for palletized hops in vacuum sealed packages (to minimize hop oxidation and deterioration). The demand for palletized hops was most likely due to brewer familiarity with commercially available hops inthis form. However, 50% of the respondents said that they would consider using, or are currently using, some percentage of whole hops (fresh or dry) in their breweries.
Summary
Although there are limitations to the information collected in the 2009 survey, it did provide a general overview of brewers' interests relating to locally grown hops. The survey planned for 2013, as part of the New Directions research project, should help to clarify some of the questions arising from earlier data and provide more detail on both grower practices and brewer requirements in order to meet the needs of this niche market.