Published on Mar 14, 2016 by Joshua Rapp Learn, Special to TVO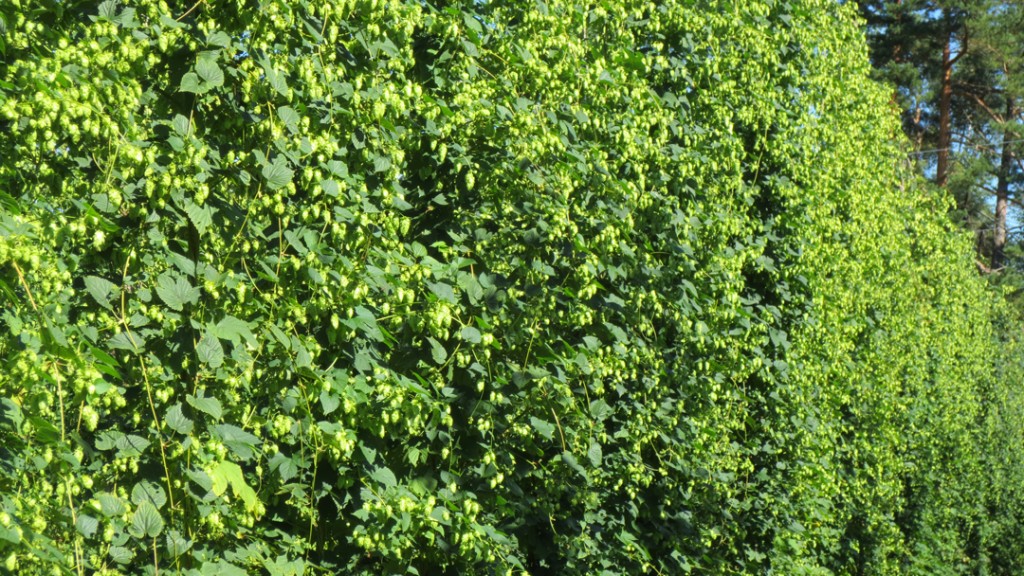 Cascade hops growing Cascade hops flourish at Clear Valley Hops in August.
Changing weather is having an impact on the fledgling hop growing industry in Ontario — but the effects aren't all bitter.
While unpredictable weather such as late frosts and wet summers can stunt hop growth and usher in invasive pests, drought in traditional hop-growing regions elsewhere in the world presents the province's industry with new opportunities and markets. "Climate change is kind of a double-edge sword for hop growing in Ontario," says Hugh Brown, the president of the Ontario Hop Growers' Association.
One of the major problems some Ontario farmers experience is unpredictability. Spring is starting earlier, which should be a good thing in terms of a longer growing season, but it comes with a caveat — the increased chance of a late cold snap.
"The temperature swing was over 20 degrees and the tips of the hop shoots froze and broke off," says Mike Driscoll, the owner of Guelph Harvest Hop & Malt, recalling the past two years. This set the growth of his crops back about two weeks and cost him about 10 per cent of his yield.
Hops are used as a key ingredient in beer and made from the dried flower of the hop plant. Climate has a history of causing problems with growing hops in Ontario. About 150 years ago, British immigrants began growing hops in the province in answer to a large demand from breweries. But the weather was a little too humid and downy mildew ate through the European noble hop varieties, which were accustomed to drier climates.
The Ontario Temperance Act of 1916 nailed the lid on the hop industry's coffin and some feel it still hasn't completely recovered.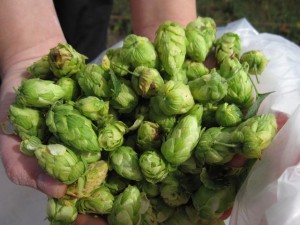 A handful of hop flowers Hop flowers ready for drying.
Downy mildew, a common disease in the province, is a challenge for hop growers, especially when the weather stays cool and wet as it did in the past two summers. North American hops are more resistant to mildew than European varieties but they are still vulnerable. Two years ago Driscoll lost an entire crop of 150 plants to the disease.
Brown says negative effects of climate change in other parts of the world may be creating demand for Ontario's hop industry. Hops in Ontario and Great Lakes states could provide alternatives as drought affects yields in traditional hop growing areas in Europe and the U.S. northwest.
"The now seemingly wild swings in weather can affect all crops, hops included," says Jeff McCauley, senior purchaser at Beau's All Natural Brewing Company in Vankleek Hill in eastern Ontario.
"The German hop crop yields this year were cut almost in half." Mike Duggan, owner and brewer at Duggan's Brewery in Toronto, says growers in Ontario can barely keep up with the demand in the province, due mostly to the booming craft beer industry. His brewery and Beau's use Ontario hops when possible, and climate woes in other parts of the continent are only adding to that market demand.
"If one of these [other] regions has a really bad year, or global warming or climate changes dramatically and affects them in a very negative way, then it would be very advantageous to have another area that has grown hops traditionally to pick up the slack," Duggan says.
But Ontario farmers are still catching up. Hop plants take about four years to reach maturity, and droughts affecting other hop growing areas aren't that old yet.
Laurie Thatcher-Craig, owner of Clear Valley Hops in the Collingwood area, says the industry still has to persuade the market about local quality, but has a great opportunity ahead of it. "It's getting too hot for hops in the rest of the world," she says.
Having Ontario crops to bolster the supply chain of hops would benefit breweries everywhere on the globe.
Farmers are the front line fighters of this thing called climate change. Most of the time we're just spinning our heads saying 'Now what do we do?' — Laurie Thatcher-Craig, owner of Clear Valley Hops
"If you're looking at opportunity, I've said this from the very beginning: supply chain," she says. "When you rely on one supply chain, if there is a disaster like we're getting this year, it really puts your business at risk."
But there are other potential problems ahead for Ontario hops — Brown worries about natural disasters and the threat of invasive insects with a taste for hops. Japanese beetles have caused destruction on Michigan hop farms and the voracious pest has already established populations in parts of Ontario.
"Those guys can go through a hop yard in a matter of days and basically strip it." Brown says 200 of his hop plants were stripped of their foliage in seven days and he suspects a Japanese beetle infestation was to blame.
Since hops creep up high trellises, extreme wind or weather can be deadly: "They're kind of like a green sail in the wind," Brown said. Microbursts have destroyed some hop farms in neighbouring states south of the border, and he worries about an increased number of tornadoes in Ontario.
Thatcher-Craig is concerned about the wonky weather as well. "Climate change isn't about global warming, it's also about erratic weather patterns," she says. "Every farmer is dealing with this no matter where they live around the world. Farmers are the front line fighters of this thing called climate change. Most of the time we're just spinning our heads saying 'Now what do we do?'"
Joshua Rapp Learn is a science writer with The Wildlife Society and a freelance journalist.
For the full story, and others visit TVO.org here: http://tvo.org/article/current-affairs/climate-watch/why-climate-change-wont-dry-up-ontarios-hop-industry
Follow @joshualearn1