By: Vito Pilieci on October 9, 2013 in Food & Drink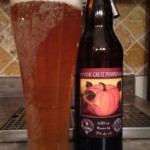 Photo credit: Vito Pilieci
As the microbrew movement in Ontario continues to pick up steam, it is creating opportunities for farmers, especially for those looking to grow hops.
Hops are the female flowers of a plant otherwise known as which are known in the scientific world as humulus hupulus, and they give beer its bitter taste. The more hops used, the more bitter the brew. There are many different types of hop plants and each produces flowers, or cones, that impart different flavours to the beer they are added to.
While Ontario microbrewers want to trying to support their local farming communities by buying as many local ingredients as they can, they have faced problems obtaining a steady supply of the bittering ingredient from farms close to home. As a result, vast majority of the hops used to make beer in the province have come from the United States or Europe.
But things are starting to change.
Responding to demand from Ontario brewers, hops farmer Nicholas Schaut has partnered with a handful of other hop farmers to create the Ontario Hop Growers Association.
Its goal is to resurrect Ontario's hops growing industry, which was booming and fertile before Prohibition wiped out all of the microbreweries in the province. Without customers, hop farmers converted their farms to grow other products until none was left.
But microbreweries across the province have exploded. There are now more than 30 and new ones are being announced on a regular basis, and they are once again sparking demand for high quality local hops.
"It was once a very popular plant all throughout Ontario. The whole Saint Lawrence and the Great Lakes region had hops," said Schaut, president of the Hop Growers Association. "Something really powerful is beginning to occur. It's much like what happened with Ontario and wine industry. This is a great moment."
According to Schaut, Ontario hops growers produced 13,500 pounds of hops in 2013. It was not nearly enough to keep up with demand from the microbreweries.
But he expects the hops harvest to hit 28,000 pounds in 2014 as the plants mature and more farmers start growing the vines.The amount still won't be enough to satisfy the demand, but it's a step in the right direction.
Another initiative that Schaut is overseeing, thanks to a generous grant he secured from the Ontario government, is the installation of a hop pellet making machine on his farm, Big Head Hops in Meaford, Ont., which is beside Owen Sound on the southern shore of Georgian Bay.
The machine will be the only one in operation in Ontario. It will allow farmers to process their harvested hops into dried pellets, which are coveted by the beer industry. Hop pellets can be stored for long periods of time and are easier to ship than fresh or dried whole hop flowers. The initiative will mean that as harvest volumes increase, Ontario hop farmers will be less likely to see spoilage from their annual harvest, as any possible excess could be turned into pellets and stored until the breweries require additional supplies.
"The tipping point is now happening in Ontario," said Schaut.
Hops are traditionally harvested in September and early October, making the fall season the perfect time for Ontario brewers to reach out to local hop growers and craft some new beers using freshly picked hop flowers. Below are a few picks that are on offer at various microbreweries:
Manotick Harvest Pale
Brewed by: Big Rig Brewery
Alcohol By Volume (ABV): 5.5 per cent
International Bitterness Units (IBU): 40
Score: 87
The flavour of fresh cascade hops shines through in this beer. While definitely on the bitter side, this beer is easy-drinking and sure to appeal to a wide range of beer drinkers. The beer pours a clear amber colour with a thick white head that lasts and will leave lacing on the glass. The aroma is mild citrus. It's a definite hops fragrance that comes from the addition of fresh cascade hops that were hand picked from local farms (including some from a farm owned by Ottawa Senators defenceman Chris Phillips). The taste is sweet malted grains followed by fresh, and slightly bitter, hop flavours that linger for a little then fade away. It's a great choice for a fall brew.
It's The Great Pumpkin Ale
Brewed by: Church Key Brewing
ABV: 7 per cent
IBU: 18
Score: 73
There is a lot of pumpkin spice, which is the star instead of the freshly picked Zeus hops, in this brew. The beer pours clear yellow with a thin white head that quickly dissipates. The beer smells strongly of nutmeg and pumpkin spice. Taste is almost all pumpkin and spice. The fresh Zeus hops are noticeable and help to balance the sweetness of the malts in the beer, but it's really the pumpkin that shines here. Considering its high alcohol content, the beer goes down easily. It would be a great addition to Thanksgiving dinner.
Harvest Ale
Brewed by: Broadhead Brewing Co. Ltd.
ABV: 5 per cent
IBU: 20
Score: 78
It took the entire 2013 hop harvest from the farmers at Lot17 Hop Yard, just outside of Campbellford, Ont., to make this tasty brew. The beer pours a clear amber, almost red colour. It has a very thin head that quickly fizzles away. The smell is sweet caramel and malts. The taste is very balanced and the hop flavouring is subtle, which is likely a plus to those with a less adventurous palate. The beer is smooth and incredibly easy to drink.
To see original article, click here.