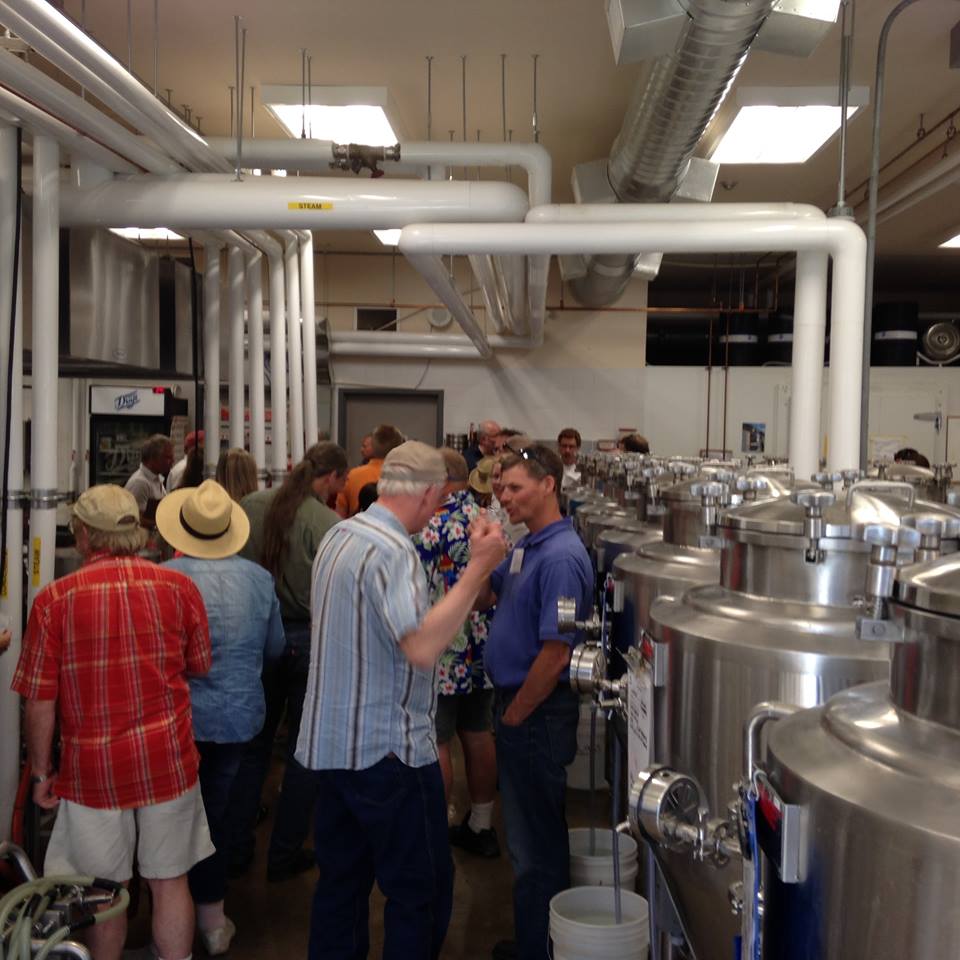 Canadian hop acreage is estimated at 259.5 acres, according to the most recent update from the Ontario Ministry of Agriculture and Food & Rural Affairs (OMAFRA), with Ontario accounting for about 23% of that total.
Ontario has 32+ commercial growers with approximately 24 ha (~60 acres) – that is an 300% increase since 2009.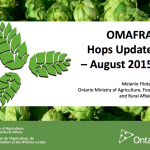 Other key highlights from the August 2015 Hops Market Report from Melanie Filotas, OMAFRA's Integrated Pest Management Specialist, Specialty Crops – presented at the OHGA field day at Niagara College Aug. 5, 2015, includes the following:
The year started off with some late May frost damage to some hop yards
Irrigation was less of an issue due to wet 2015, however still required to maximize yield

Downy mildew

 was an issue for growers with systemic infection or who were delayed in applying preventative sprays
Leafhoppers, Japanese beetle sporadic – damage to some yards, not others
First confirmation of Fusarium in hops in Ontario and Quebec
Virus appears to be wide spread
Mite populations were starting to build in early August.
Click here to download a full PDF version of the presentation here: OMAFRA Update to OHGA Aug 2015.
About 40-50 growers attended the field day to view the college's new hop yard and tour the brewing teaching facilities, and to get an update on two projects OHGA is doing with the college:
Ontario Hops benchmarking project (10 key commercial varieties)
Hops Commercialization Project to review the current size and trends in the hop industry
Both projects are funded by OHGA membership fees, with the information to go back to member-growers to help plan peak harvesting times for hops covered in the benchmark project and for industry data to help support business plan and grant application development.
In other news…
New Products Registered on Hops:
Purespray Green Oil (mineral oil) for suppression of powdery mildew and spider mites, feeding deterrent for aphids
Agri-mek (abamectin) for control of spider mites
Vivando (metrafenone) for suppression of powdery mildew
EMERGENCY USE REGISTRATION UNTIL JULY 2016 ONLY: Regalia Maxx (Reynoutria sachalinensis) for suppression of downy mildew.
Other studies still underway….
2014-2015: OMAFRA Frost Management Trial
2014-2017: U of Guelph Hop fungal disease
2015: OMAFRA Leaf Stripping Trial
Downey Mildew update – Rhizome samples
Are you expanding your hop yard in 2016? Would you be willing to donate rhizomes? The University of Guelph can accept a limited number of additional samples, 5 samples per grower
This is not a diagnostic test!
For more information, contact Amy Fang Shi (Research Associate, University of Guelph):
Hop Scouting workshops
In future, OHGA is working with OMAFRA to make a hop – pest and disease scouting workshop an annual event, to assist growers with their Integrated Pest Management programs. Please check back in our calendar in the new year, once we have firmed up the dates.
Hops specific spraying
For growers interested in pesticide safety certification, which is required to purchase and use Class 2 and 3 pesticides in Ontario, you should look into the Grower Pesticide Safety Course, and it is administered by the Ontario Pesticide Education Program (OPEP). Their website is www.opep.ca and the phone number is 1-800-652-8573.
The focus of this course is mostly general pesticide safety. As a rule, they don't get into spraying techniques specific to hops, but if there is enough interest – OHGA can sponsor and on-farm hops specific workshop similar to what we did in 2014 with OMAFRA's Application Technology Specialist, Jason Deveau. Jason covers all crops (field and horticulture).
We are trying to organize something for June or early July 2016.
For more information about the 2015 Hops Market Report, please contact:
Melanie Filotas
Integrated Pest Management Specialist, Specialty Crops
Ontario Ministry of Agriculture, Food and Rural Affairs
OMAFRA-Simcoe Resource Centre
Download PDF: OMAFRA Update to OHGA Aug 2015